Honor an Educator is an ongoing honor roll of those involved, passionate individuals who stimulate our children's innate curiosity, foster their academic growth and encourage them to become responsible citizens of the world. These individuals go beyond the expected.
Help us celebrate the many ways these individuals transform the lives of children by making a donation in honor of a special teacher, mentor, librarian, custodian – someone who made a difference in your child's life.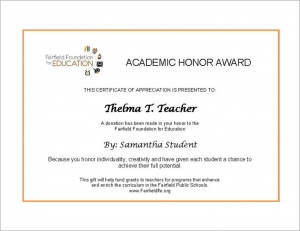 The perfect gift of appreciation:  Your gift not only honors a special educator, it also helps the Fairfield Foundation for Education fund projects that enhance the classroom experience, foster creativity and encourage the exploration of concepts and ideas beyond the core curriculum.
Fill out the donation form below and make a contribution of $25 or more and the Fairfield Foundation for Education will mail a certificate to your honoree, acknowledging the donation and including your special message of thanks. Your honoree will also be highlighted in the honor roll on our website.
To expedite the process please email development@fairfieldffe.org.
Click here to honor a teacher!